Labour Optimisation
Enable a high-performing workforce with increased efficiency & productivity every shift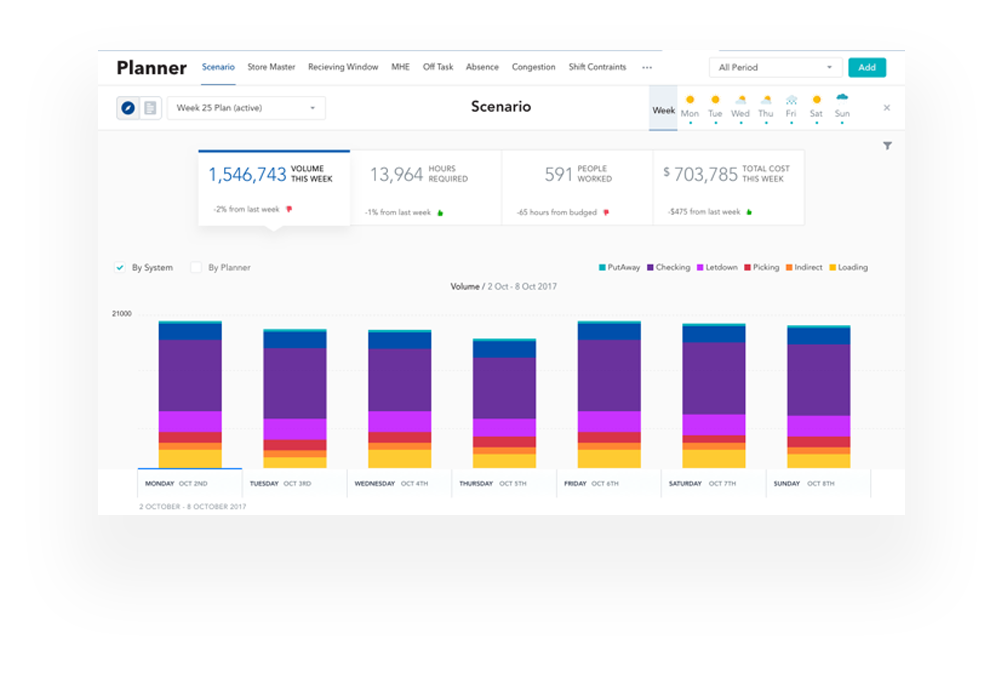 Complete warehouse management
Purpose-built for complex distribution centre operations, the Labour Optimisation module provides a comprehensive planning and intra day management solution.
Gain a complete understanding of the metrics that drive overall performance.
Compare scenarios
Ensure service levels are met
Improve efficiency
Reduce cost
Improve safety
Improve responsiveness and flexibility.
Optimise each shift with forecast volume
Generate optimum shift patterns and resultant employee schedules using forecast inbound and outbound volume.
To generate these forecasts, all necessary constraints are considered:
Receiving windows
Store delivery windows
MHE
Off task
Unplanned absence
Congestion
Shift constraints
Employment agreements
Fill ranking.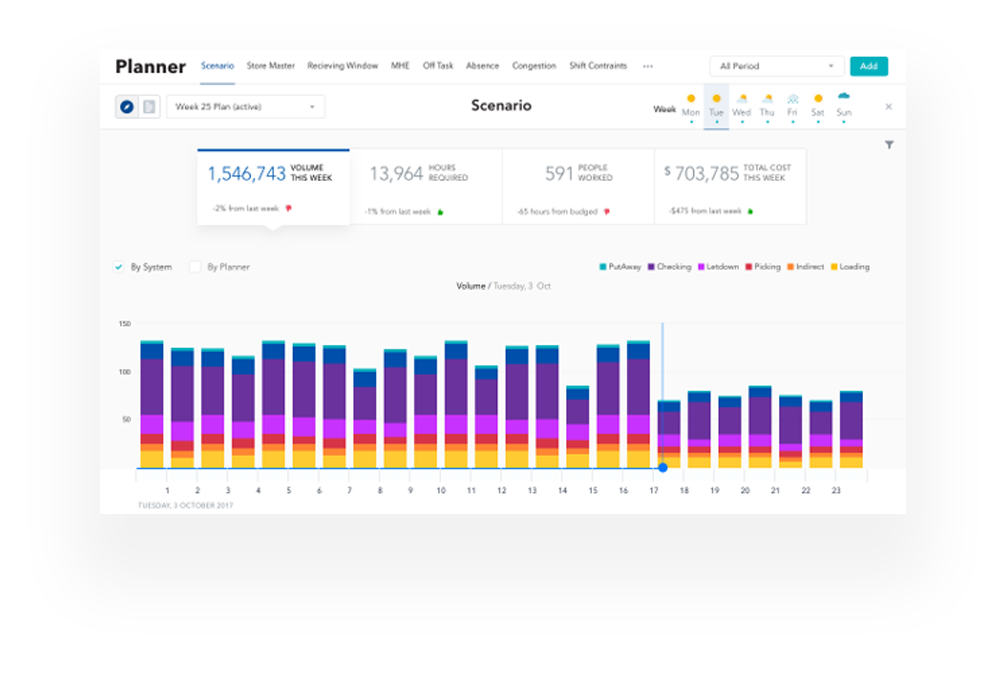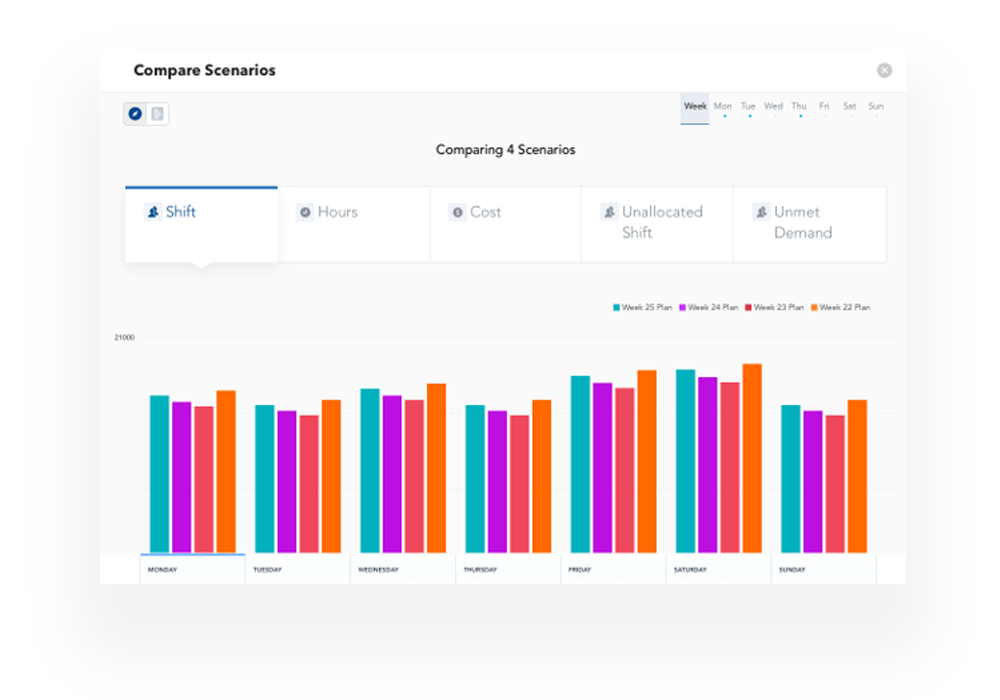 Compare scenarios for optimal outcomes
Ensure you plan to create an optimum outcome with the scenario comparison.
Manage each scenario, and modify volume profiles and one or more constraints to compare optimum scenarios prior to publishing.
You can also generate weekly profiles, and re-optimise your intra day operations considering 'actual' volume.
Efficient performance management
Stay up to date with your team's performance throughout the day on your forecast report dashboard. With this, you'll receive up-to-the-minute intra day performance with API integration to Manhattan WMS.
View performance:
Actual vs planned
By cases or cartons
By pallets
By function (volume or rates).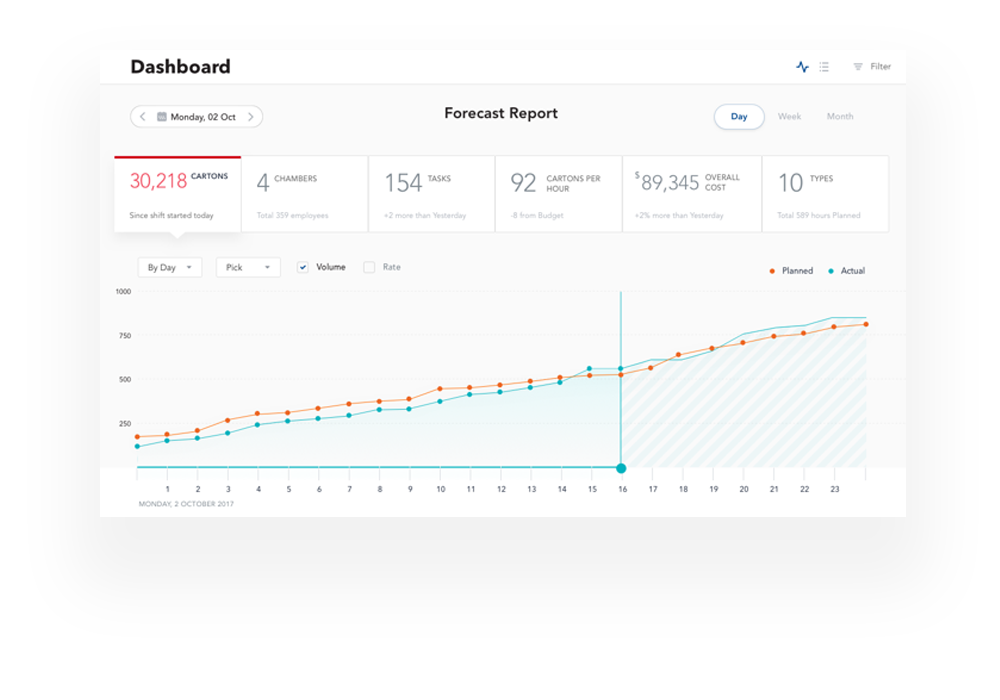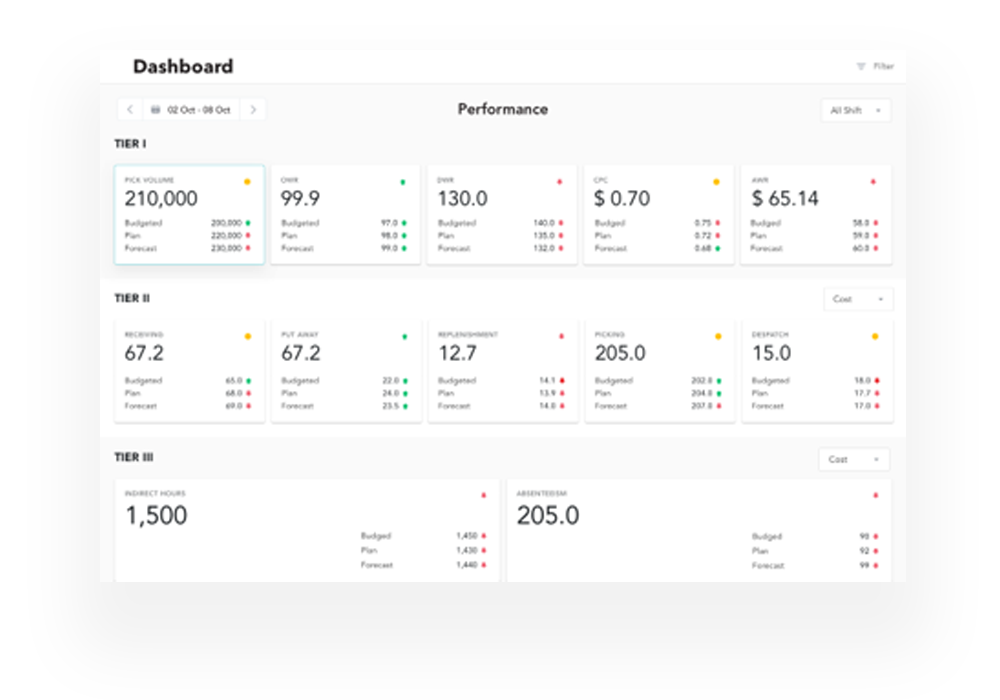 Track KPIs efficiently with up-to-the-minute data
Keep track of your KPIs, with all the information you need in one easy to access dashboard.
This performance dashboard covers:
Volume
Overall work rate (OWR)
Direct work rate  (DWR)
Cost per carton (CPC)
Average work rate (AWR)
Indirect
Absenteeism.
A configurable dashboard to suit all requirements
Making interpretation of all your data simpler, the dashboard can be configured to suit you. This enables you to take control with easier, efficient tracking of performance in real time.
Configure your dashboards with:
Definable panels
A continued feed from WMS
Intra day performance
Projected end of day position.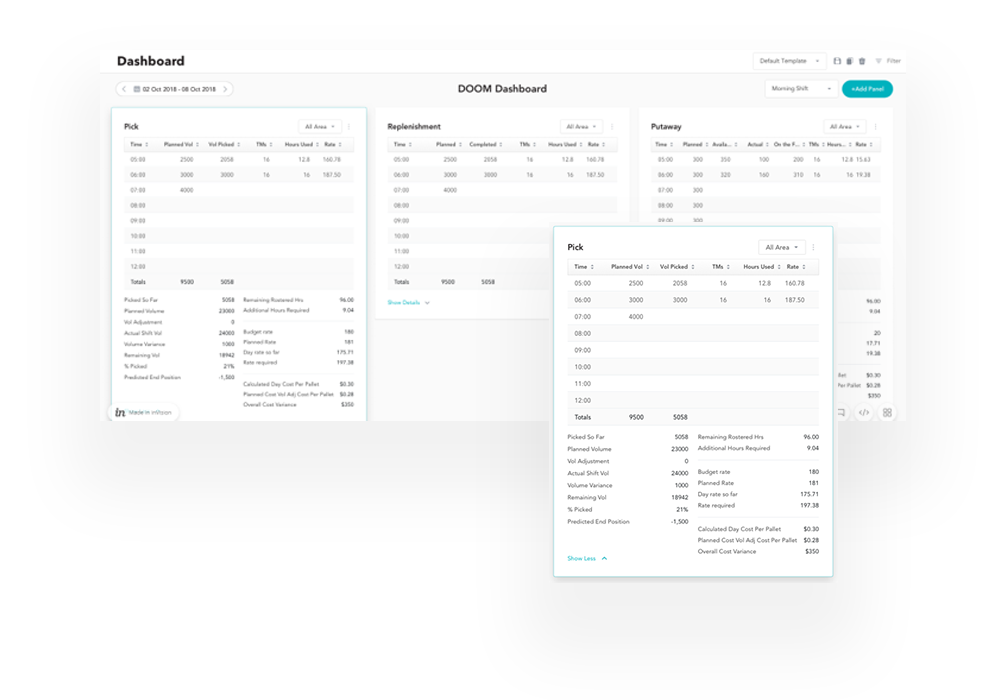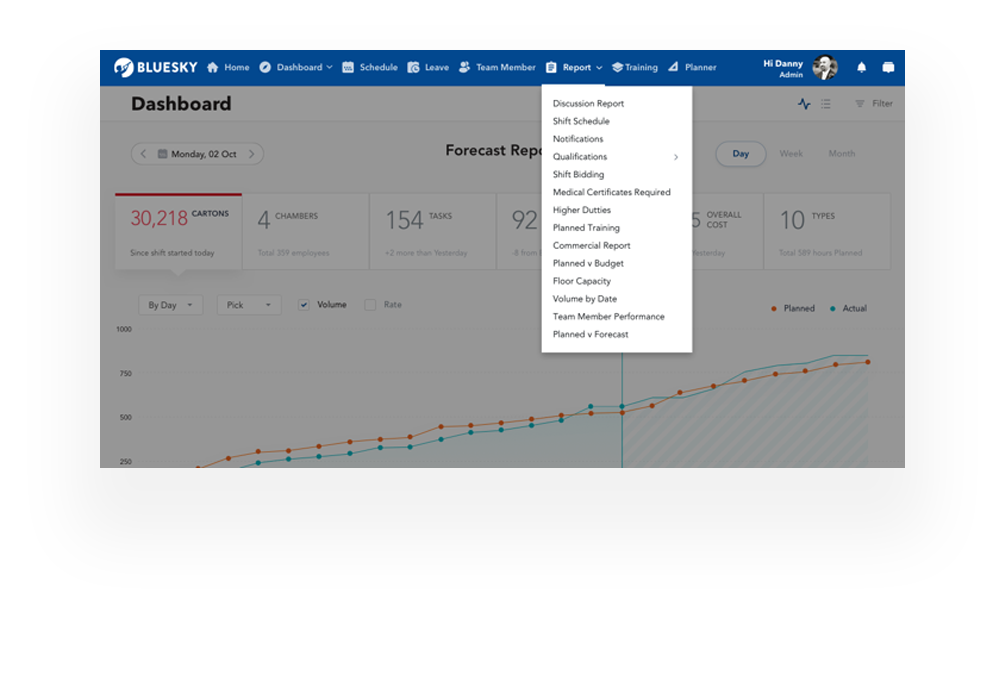 Detailed reporting for a complete understanding
With numerous standard reports to choose from, reporting is simpler and significantly faster to execute, and the results are easier to understand.
Your reports also include variance analysis by:
Shift
Budget vs Plan vs Optimised vs Actual
Hours, dollars or rates.
Spreadsheet functions include the ability to export, filter, group and sort, to enable an efficient reporting process.
Quick, accurate management of schedules
Detailed schedule views enable quick and easy access to the scheduling information you need to find.
View your schedules by day, week, month or shift, and quickly analyse the details to provide a clear picture of what's happening and when.
Analysis can be displayed by:
Daily cost
Planned cost
Daily hours
Planned hours.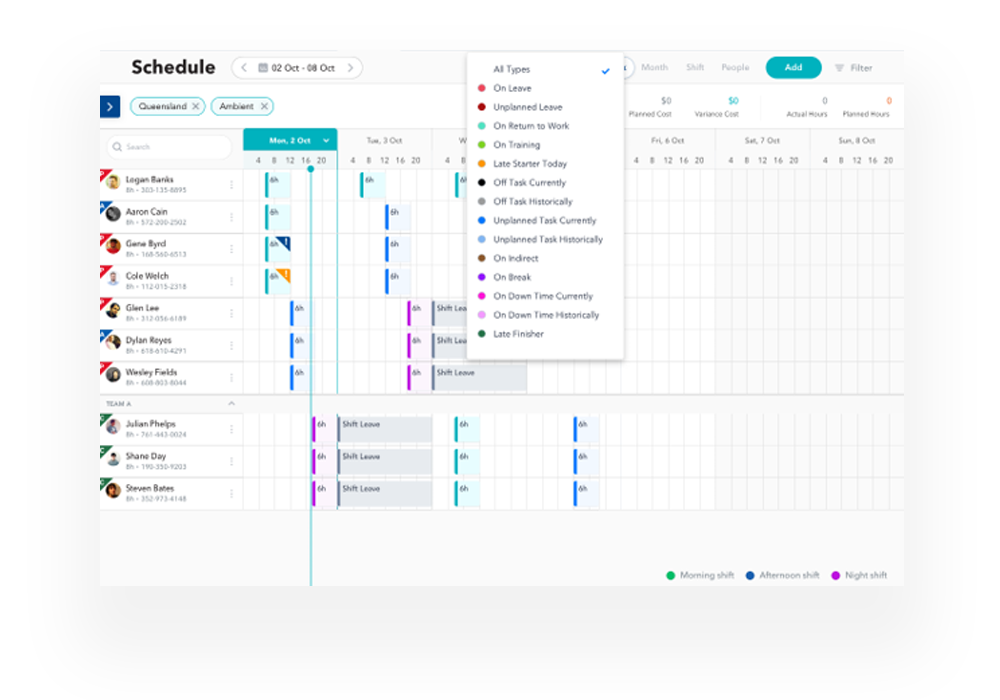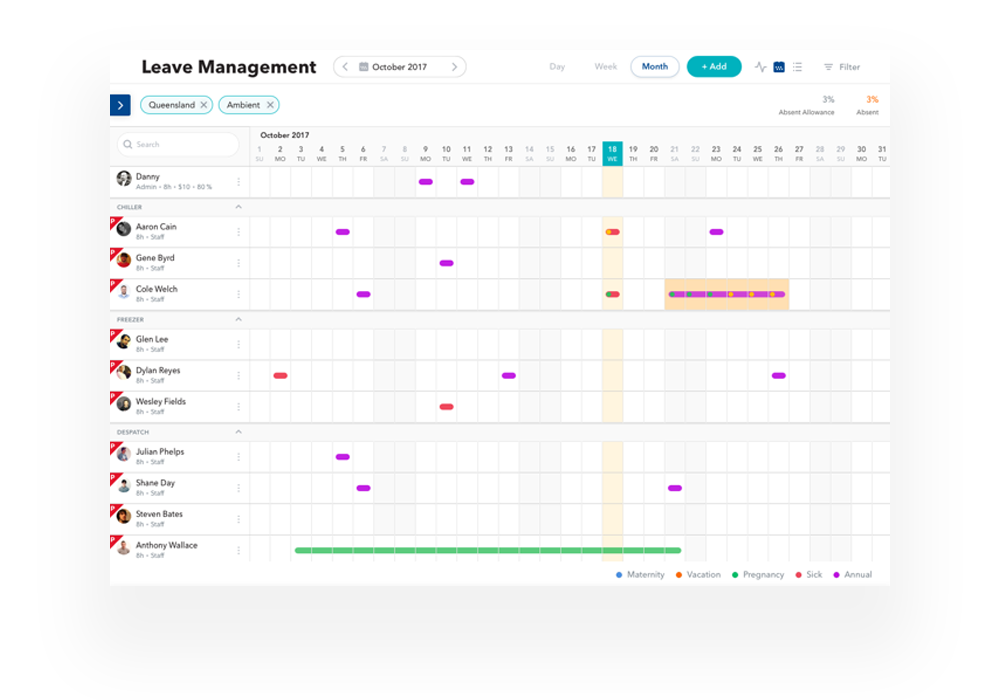 Leave the analysis up to us
Manage and analyse your team's leave, view trends and get easy access to the numbers you need to know.
Analyse leave by the measure you need:
Unplanned vs planned
Daily summary
By chamber
By task
Trends by day
Trends by month.
Quick access to all employee information
Create a rich team member master file to keep track of all relevant information for each employee.
Your Team Member section covers:
Employee profiles
Employment conditions
Qualifications
Fixed rosters
Availability
Performance discussions
Return to work management
Training.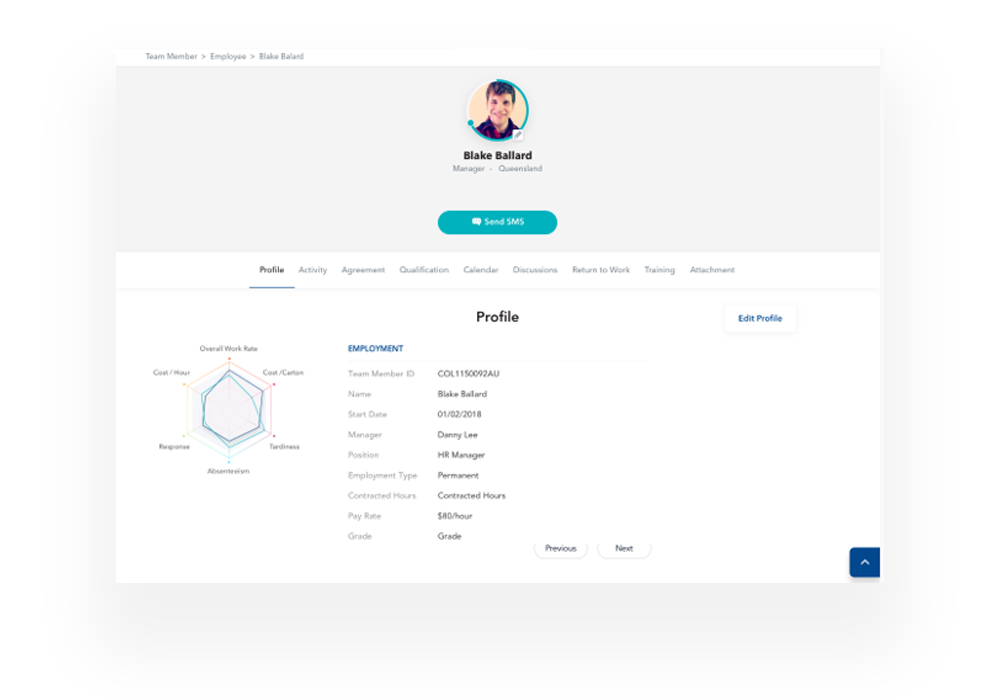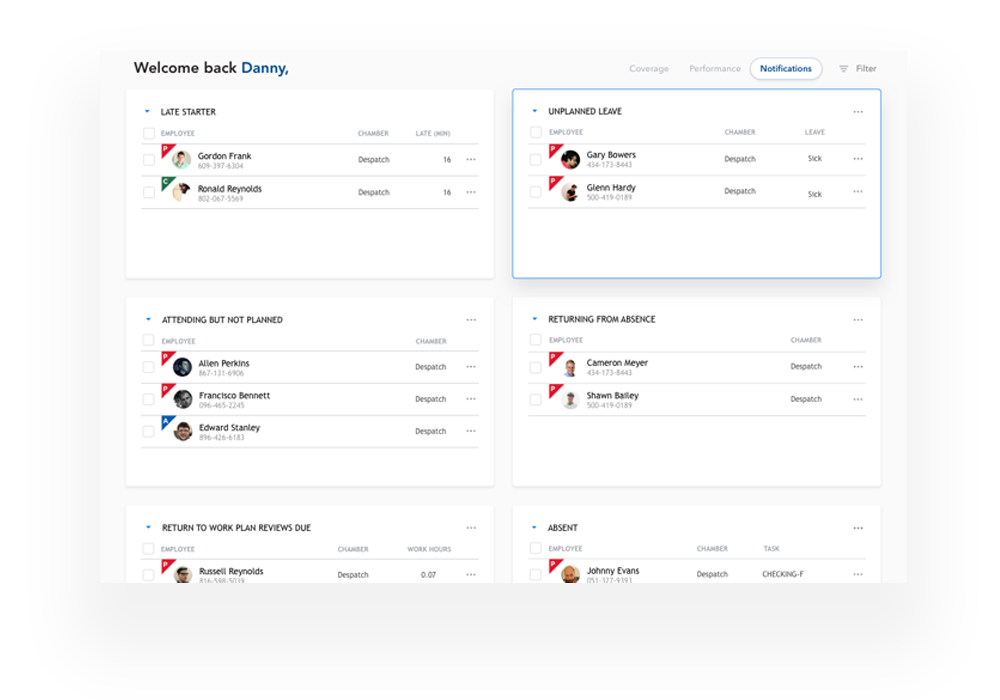 Design your home page and configure notifications to suit you
With a flexible home page, you can configure the order of each section and your notification settings to suit your requirements.
Home page modules include:
Late starters
Attending but not scheduled
Employees off-task
Working on functions different to the plan
Absent on planned leave
Absent on unplanned leave
Absent
Performance discussions due
On Return to Work plans
On training
Leave requests pending approval
Working more than contracted hours
Birthdays & anniversaries
Expiring qualifications.
Effective team management, even when you're on the go
Enabling efficient and effective management from wherever you are, the mobile application makes it easy to keep up to date with your team's performance.
View up to date information from the DC floor, all from your mobile device.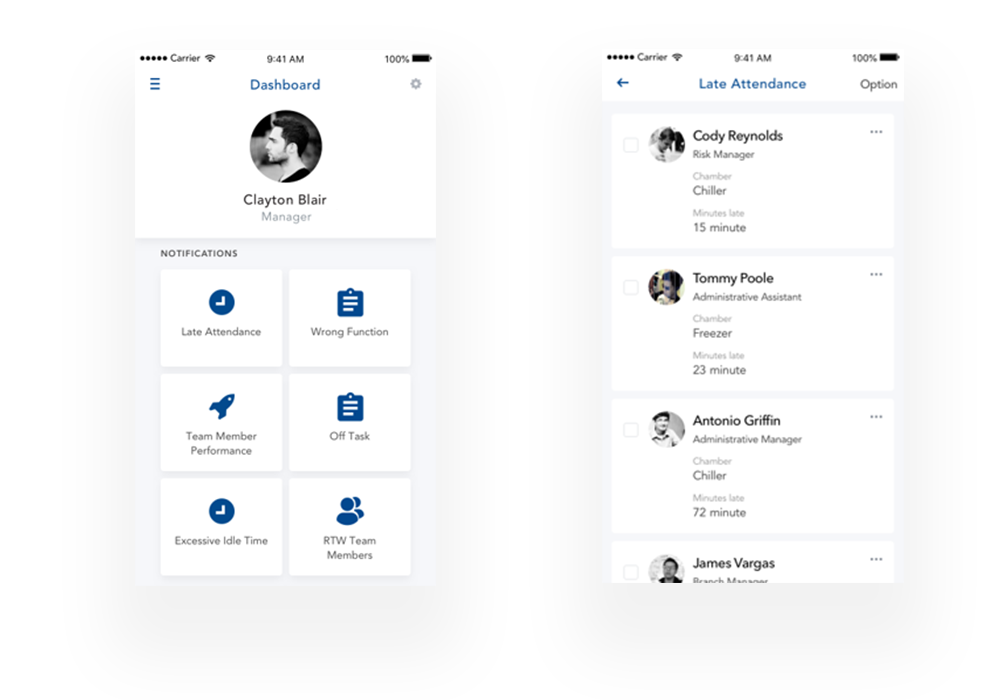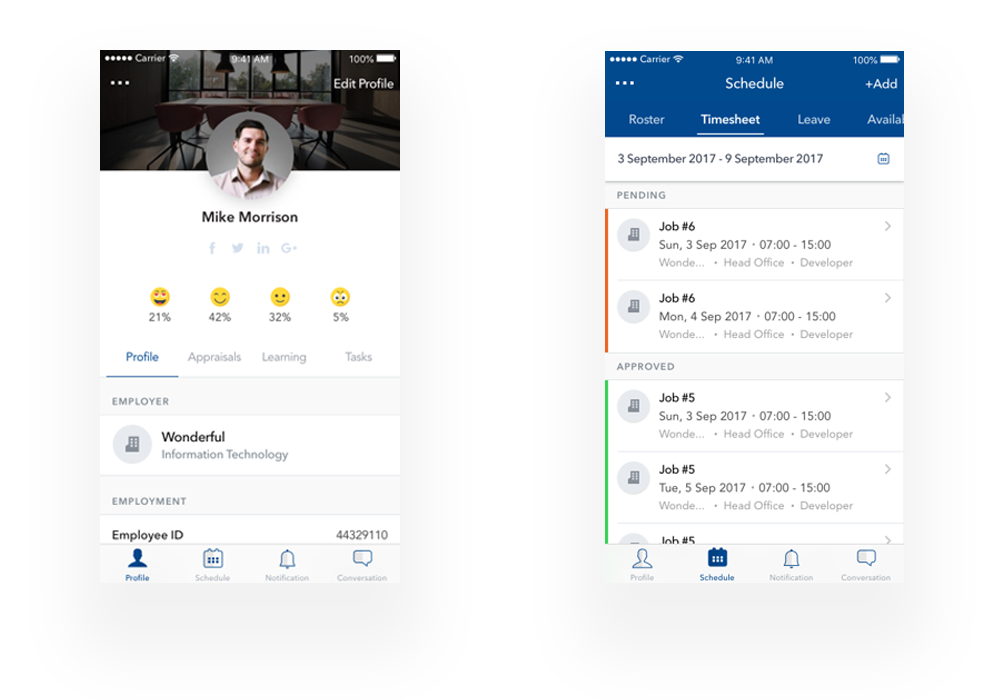 Make it easy for your team members
The mobile app, available on Android and iOS, makes it easy for your team members to take control of their scheduling, timesheet and application requirements.
With the mobile application, your team members can:
View schedules
Maintain availability
Maintain profiles
Apply for leave
View timesheets